Contest - 2023-Flash-01 - Transformation
Entry deadline – Saturday March 4, 2023 – 5 pm ET (New York time)
 Countdown to entry deadline: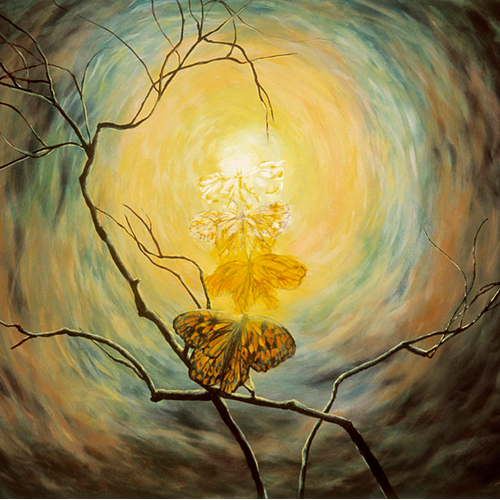 Grand Prize (Staff Pick) – $50 Amazon Gift Card
Free Google SignIn, and Free Contest Submission
2023-Flash-01
"Transformation"
In this new year of 2023, let's celebrate our wonderful writing community.  We opened our virtual doors in early 2020, just as the pandemic began. Now we have a full slate of talented writers and dedicated readers.  We look forward to each new contest and to each new story. Congratulations to so many of  you for almost three years of excellent writing!

We are making some changes this year to help us keep thriving and keep this valuable resource for writers alive and well.  Here's to transformation – as individuals, as a group, and hopefully as a society.
The natural world is full of miraculous transformations. We watch in awe as a caterpillar becomes a chrysalis, then opens its lustrous wings and becomes a butterfly. The painting we've chosen for our picture prompt shows an even further evolution, from butterfly to pure light!  
All of nature evolves, grows, transforms, so why limit ourselves in any way?  We invite you to explore new ideas and new forms of expression as you write a flash fiction story of 350 words or less.
Ensure your submission follows these rules:
Correct length (350 words or less)
Correct spelling and grammar

Family-friendly content
Be sure and include a reference to transformation!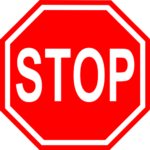 Become your own best editor!  Make sure you have followed all our basic rules, and checked your story against our list of common errors before you submit.  Once you submit, you can track the status of your story with our new descriptive entry status images.  
Lists of basic rules, common writing errors and entry status images can all be found here: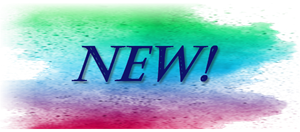 Please observe these guidelines for our 2023 contests:  
One story per person

Fiction only – no poems, memoirs or essays

Shortlist not selected until after contest entry deadline

Shortlist not published until after contest entry deadline


Please note – there will be no new stories published from this contest until at least one week after the submission deadline.
Below is a list of featured stories from previous contests for your reading pleasure and to promote conversation, sharing and comments.
Great fiction from previous contests
While you're waiting for new stories to be shortlisted, here are some great examples of fiction from the past.  Stories from the current contest will not be shortlisted until at least one week after the contest entry deadline.  In the meantime, read these treasures and be inspired!  Make friends with the authors – learn, share and grow!
We are committed to strict moderation and curation to ensure that all content adheres to our family-friendly policy.  In order to have the best chance for your content to be published, you should avoid the following topics: