Samantha Strowd – Five Cats, Something Like That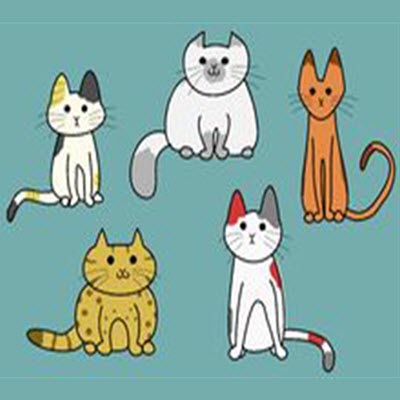 Everything about the competition sounded like fun!
The year was 2011. The sponsor was a performance group in Hanover, Germany, who was giving their third annual Composers Competition. The Plathner Eleven chamber group certainly had a sense of humor and creativity. The rules for the competition were similar to other competitions, except for the theme — newly composed pieces were to be based on the number 5. The composer could use this special number in whatever way s/he saw fit. The more creative ways the composer used the number 5, the more chance s/he had of winning!
My composition student Samantha was in a gap year between high school and college back then, and had only composed fairly predictable tonal pieces. Something about this competition appealed to her, and as she worked on her "5" piece, she blossomed into a real composer.
"I want to write about cats", she declared when we first read about the competition. "The name of the piece might be 'Five Cats', something like that." I was entering her ideas into our database and I teasingly typed in her words as the name of the piece: "Five Cats, Something Like That". We both started laughing, but as I was about to delete the last three words of the title, she held up five fingers. "Five words! It's a perfect title!" From then on, she was off and running.
She experimented with chords until she found the perfect five chords which would become the melodic or harmonic inspiration for most of the five movements. She toyed with interesting time signatures – 5/8 and 5/4, of course, but also any multiples of five. She tried and then discarded the five-centric time signatures, but the creative gates were open and the juices were flowing! Metronome markings deviated wildly from the normal markings as they all became numbers that ended in five or zero. She even had one section where the tempo was marked quarter note = 5! That proved to be a bit too slow for the senses to comprehend, but it was fun while it lasted.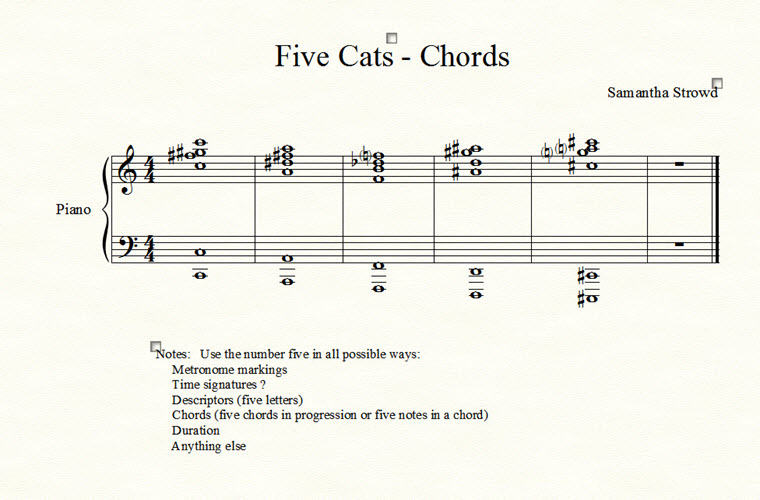 Somehow all the emphasis on the number 5 created an atmosphere where creativity flowed freely.  The chords she chose were guaranteed to free her of any tonal tyranny!
The Five Cats were based on cats she knew and loved:
 The Hunter – Semi
 The Charmer – Lyra
 Curiouser and Curiouser – Alice
 Cat and Mouse – Tom & Jerry
 The Smile – Cheshire Cat


"Alice was not exactly a cat", I teased.  She just grinned.  "No, but her name has five letters!"  This was not the same student composer who had worried over inversions of the five chord in days gone by.  Samantha wasn't the least bit concerned that one of her "cats" wasn't even a cat.  When a piece is out of the box, it starts creating its own rules!
In addition to finding just the right notes and dynamics and phrases and all the things that composers pour energy into, she also had fun thinking of five letter words to describe sections of music.  The Alice movement, aka "Curiouser and Curioser" became very much like a cat with its many different moods, each of them with a five-letter descriptor.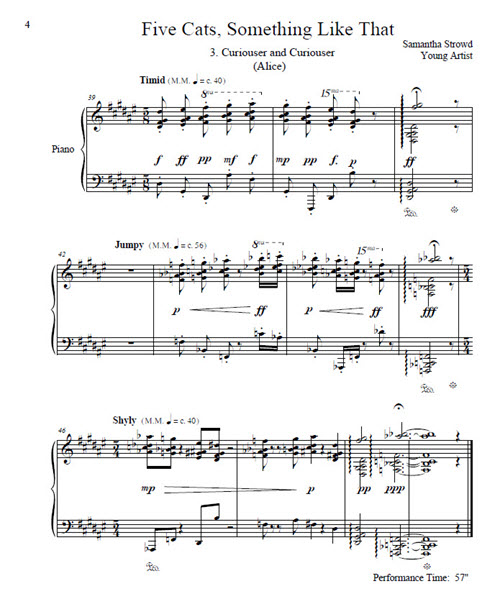 Creating should be fun. Competitions should inspire us to imaginative heights, give us an incentive to finish a work that might otherwise sit gathering dust. This competition was a highlight in Samantha's studies and gave her a confidence and composing path she'd never found before.
As a teacher, I was thrilled by the way she grew as a musician throughout the compositional process. I knew she had entered a competition that was a bit over her head. After all, it was an international competition sponsored by a well-known European performance group. Professional composers from all over the world would be entering. We weren't expecting her piece to win or even to place in such an illustrious competition. We were quite satisfied that the piece was interesting, well-written, imaginative … and full of fives! We thought we had heard the end of it on the day she completed and submitted her entry.
Imagine her surprise and delight when she got a personal email from the director of the entire competition! No, she hadn't won. But he loved her piece!
"Your piece was under those 3 pieces we chose from but didn't win a prize, sorry for it, as my personal vote went to you," wrote Gintaras Janusevicius in a private email to Samantha. He went on to say "There is some very nice and good sounding, lovable and very interesting material in this piece. My favorites are the cats no. 2 and of course Tom & Jerry. Actually, in this one, the jurors could not help having fun and smiled very much."
Even the great honor of being on the list of five (!) semi-finalists paled in comparison to making the jurors "smile very much".
Samantha subsequently entered this piece into several other competitions and won first place in one of them. The piece has since been performed many times by professional pianists, and is always a hit with audiences and performers.
"Five Cats, Something Like That" was a real feather in Samantha's composing cap, and brought her a lot of recognition and admiration. I still think, however, that the best thing about this piece was the new energy that she brought to composing as a result of this piece and this competition. I am very grateful to the Plathner Eleven, the idea of "five" that inspired this piece, and the way the creativity of the competition presenters sparked Sam's own creativity, opening new doors to her musical expression.
Perhaps the last movement of "Five Cats" best expresses our experience with the competition and with the composing process it spawned. Five years later, we're still smiling.