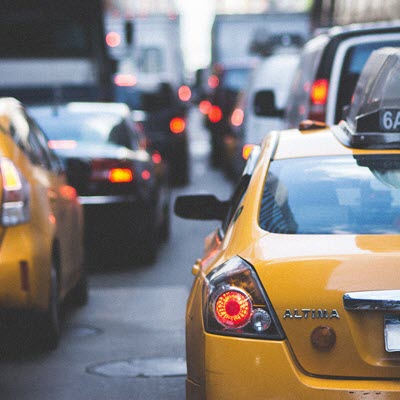 Maila drummed her fingers on the steering wheel. The taxis and trucks ahead were slowing down, stopping. She had no choice but to follow suit. She slammed on the brakes angrily. The glowing dashboard digital clock read 2:37. She was the first speaker on the agenda, scheduled for 3:00 pm. "If you're late again, we won't wait." Marissa had been adamant. "Claude can start. He's always on time."
Claude lived in another decade. Another century. To hear him talk, bikes, buses and greenways were the wave of the future. "Slow Down and Live" was his campaign motto. What a loser. Hers was "Full Speed Ahead", the same words on her husband's luxury-car business brochures. All the town leaders knew a luxury car was in their immediate future if she were elected mayor. What could Claude give them? A fleet of bicycles? A bus pass? She laughed out loud, which made her splitting headache tighten its grip.
"Mike can stall them," she thought. Her husband carried a lot of weight in town. She couldn't get a signal, but someone in the car to her left seemed to be chatting away on a cell phone. She rolled down her window to yell for their help. Exhaust fumes and road rage washed over her. She leaned her pounding head against the steering wheel and closed her eyes.
She was 12 years old, skipping happily down the sidewalk, heading back home after an afternoon with her friend. A middle-aged man rode by on a cargo bike filled with a bag of groceries and gifts. Strawberry bubble bath for her mom, a purple scarf for her. He turned to wave; she screamed. And screamed. And screamed.

Her head jerked up from the memory. Any of her husband's state-of-the-art cars could easily have swerved out of the path of that truck. Claude's ideas were dangerous.

She had to get to that meeting. She had to get elected. The only thing that stood between her and utter darkness was her aluminum and glass fortress, her protection from the world.