#4 – Stories, resources, support and encouragement for those who are journeying with cancer 
The entire series is here: 
Stores of Hope and Healing
I wish I knew where Annie was now.  I would so love to talk with her and exchange stories.  Last I heard she was building a little house in Mexico, strumming her guitar, teaching piano, speaking Spanish like a native.   Before that she lived on a farm in California, growing organic food and giving cooking lessons.  Before that she was just down the road from me, here in North Carolina, surrounded by woods and deer and rainbows, restoring a hundred-year-old farmhouse and raising vegetable gardens that were an art form. 
When the rest of us had a drought, Annie had an abundance of rain.  When our gardens wilted, hers flourished.  She seemed to create her own ecosystem.  She only lived fifteen minutes away, but walking into her world was like entering that First Garden – a place of perfect health, glorious food, warm companionship, inspiring conversation, delightful music.
This was a woman who had been diagnosed with advanced breast cancer.   That was almost twenty years ago.  Since the doctors gave up on her, she's traveled all over North America, visited gurus and chefs and Mexican artists.  She was courted by a man twenty years her junior, who called her his goddess.  She taught herself flute and piano.  She bought a harpsichord.
To Annie, the diagnosis of cancer was an invitation to change her life.  She quit her job, sold her house, left all the trappings of middle class America to learn about nutrition and lifestyle changes.  She believed that healthy food was her path to live through and beyond her cancer.  She devoted herself to studying food in all its aspects, from seed to leaf to table to satisfied smile.  She knew the history of every grain, the glycemic index of every vegetable and fruit, the exact nutrients in a single berry.  And boy could she cook!
Back in the early 1990's, she created her wonderful Healing Foods Kitchen, where we all learned organic cooking, nutrition, anti-cancer properties in certain foods.  Cancer was a foreign concept to me then, so I just enjoyed the food and didn't try to learn about cancer-fighters.  I did watch women come to the class and grow strong. 
One woman, Cyndi, was very ill when she joined the class.  She was fragile and thin, all frightened doe's eyes and emaciated body.  We all dreaded the day when she would be too ill to come to class anymore.  But instead, she seemed to become healthier every week.  Her eyes began to glow, her body filled out, she spoke and moved with confidence.  The last time I heard from Cyndi, she was healthy and happy, cancer-free and thriving. 
Annie and Cyndi and some of the other women in the Healing Foods Kitchen took advantage of all the miracles that the medical world had to offer, and they all believed that food also played a vital role in their healing.
When I faced my own cancer challenge, years after Annie began the new, more adventurous stage of her life, I remembered all the lessons Annie had taught me.  I found a nutritionist who specialized in anti-cancer diet.  I began to take time again to enjoy the preparation and presentation of food – the green fragrance of fresh spinach, the wonderful shades of color in blueberries, the warmth of curling my hands around a bowl of lentil soup.  Every texture, color and aroma began to feel like a tremendous gift, and a conversation with Life.
Annie, Annie, Annie – whatever Mexican sunset you're watching, or whatever California mountain you're climbing, thanks for the gifts of your Healing Foods Kitchen!  And by the way, is that handsome young guitar player still throwing flowers at your window at night?
With love and appreciation-
Julie
— Julie Harris, August 19, 2010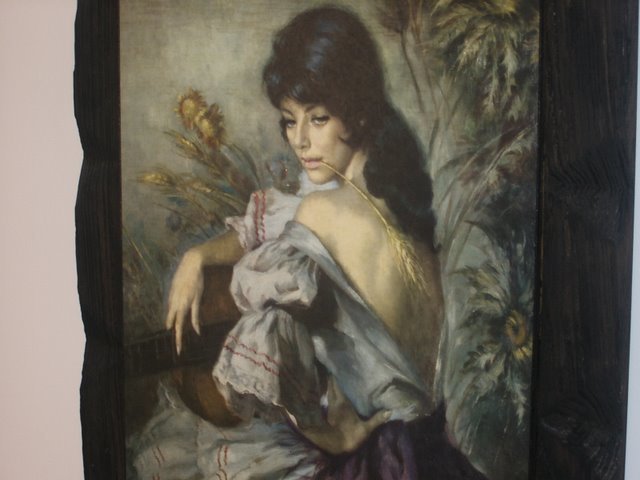 News flash!  August 29, 2010:  I just found Annie!  She's in Ireland, playing her flute and deeply involved with the Irish music scene.
Ah, Annie – play us a jig, while we fill our plates with a scrumptious green and gold celebration from your famous Healing Kitchen!   
— Update January 26, 2013.  I never thought I could afford a personal chef, and still can't.  But somehow, after I watched several of my friends die from cancer, I decided I'd find a way to afford it.  Now the most wonderful people cook my meals!  They come once a month, cook all day and fill my freezer.  Together, we developed an anti-cancer diet that is scrumptious in addition to being just about the healthiest diet on the planet.  And it really doesn't cost much more than my old way of eating.  You owe it to yourself to check into:  The Food Fairy.  If you live in another part of the world, Terri can probably point you to local folks in your area.  This might be the best gift you could ever give to your own health and well-being.