Ever since Christopher Ricks published Dylan's Vision of Sin (2004)—this from the famed critic of Keats and Tennyson—I knew the Nobel was in the works. In one of world culture's more arch practical jokes, Dylan has received what Leo Tolstoy, Henry James, Marcel Proust, Wallace Stevens, Virginia Woolf, James Joyce, Ezra Pound, and Vladimir Nabokov were denied. The award is not insignificant. It represents the final collapse of the distinction between high and popular culture. The sixties cultural revolution is officially complete.
Dylan is a doggerelist—an evocative doggerelist—sometimes a scintillating doggerelist—a powerful cultural synthesizer—but doggerel is not poetry and synthesis not philosophy. Doggerel plays with language without mastering it. Dylan produces collages from scraps of image, while the great poets provide vaulting architectures of permanent human meaning.  The award is the sixties generation's culminating pat on its own back. The extremity of contortion has never looked as ungainly.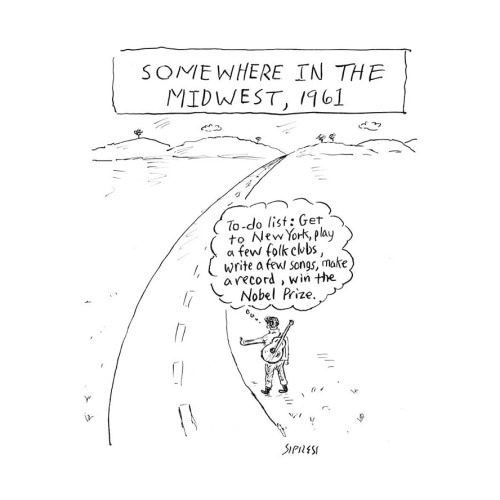 The Nobel has always recognized sustained achievement of the highest caliber. Dylan's achievement was far from sustained and nowhere near the highest caliber. Last month we drove two hours to a piano competition at the North Carolina School of the Arts. In honor of Dylan's Nobel, we played Highway 61 Revisited. I aimed to break down at least some of my Chopin-playing eleven-year-old daughter's resistance to Dylan. This is not a resistance to rock in general. She has a guarded respect for the Beatles; she's dazzled by Jimi Hendrix. From a distant room I sometimes hear her tinkling forth "Wild Horses" and "You Can't Always Get What you Want."
After twelve hours of Beethoven, Chopin, and Bach, Dylan on the way home felt utterly skimpy, ragtag, and half-baked. Not the consummate but the stunted artist. The Minnesota autodidact who doesn't know what he doesn't know. Like Ezra Pound, though on a much less ambitious scale, a bit of a cultural con artist. My daughter's response—that he can't sing and his lyrics make no sense and his music has no structure worth noting—does not tell the whole story, but nor is it strictly childish and illegitimate. John Coltrane can tail-end a day of competitive piano music; not so Dylan.
The argument for Dylan ignores that his musical output from 1968 onward—almost fifty years of music, the great majority of his oeuvre—is severely flawed even by commercial rock standards, much less Nobel standards. I am not a believer in his Rolling Stone-concocted mid-nineties comeback. The most I'm willing to say is that Dylan was intriguing, innovative, and culturally significant from about 1962 to 1968 (Freewheelin to Basement Tapes).
Dylan obviously does not approach the grandeur of the strongest Nobel prize winners (Thomas Mann, Yeats, T.S. Eliot) nor even the real (if fleeting) poetry of his strongest fellow folk artists like Nick Drake and Van Morrison. To my mind, Van Morrison's "Madame George" far exceeds "Like a Rolling Stone" or "Visions of Johanna." Dylan has never thought this carefully or empathically about anything. No has any Dylan arrangement ever approached this meditative beauty, this liminal mood. "James Joyce would have approved," says one YouTube listener. Indeed.
Novelist Margaret Atwood, of whom I am not a fan, could not contain her ire at the Dylan selection, knowing that her own chances have probably gone up in smoke and may even have been ceded to her fellow Canadians Neil Young and Joni Mitchell. Reports the UK's Guardian:
On Thursday, just as I am saying goodbye to Margaret Atwood at the end of our interview, I get a text message. "Oh," I say. "Bob Dylan's won the Nobel prize." She is about to have her photograph taken, and is arranging a rakish grey felt hat atop her steely curls. She looks at me, opens her mouth very slightly, and widens her eyes. They are the faintly unrealistic blue of a Patagonian glacier.
"For what?" she says, aspirating the word "what" with devastating effect.
Mark Steyn, another Dylan detractor, is hilarious on the subject:
http://www.steynonline.com/7561/how-does-it-feel
Cass Sunstein, big kahuna of the liberal legal world, is plainly drunk on generational triumphalism:
https://www.bloomberg.com/view/articles/2016-10-13/how-bob-dylan-surpassed-whitman-as-the-american-poet
Of all the nonsensical things said by self-congratulatory Baby Boomers—and we're now into our fiftieth-odd year of self-congratulations—Sunstein's words may be the most nonsensical: "Bob Dylan has surpassed Walt Whitman as the defining American artist." Why stop there? And indeed Sunstein doesn't. He compares Dylan to Shakespeare, or at least mentions them in same breath:
If "Like A Rolling Stone" is Dylan's "Hamlet," "Desolation Row" is his "King Lear." It's a fever dream, or a love letter, about an unruly procession of humanity—Cinderella, Ophelia, Einstein, the good Samaritan, the tightrope walker, a jealous monk, the blind commissioner, insurance men, Dr. Filth and his nurse (who "keeps the cards that read 'Have Mercy on His Soul'").
But in the last stanza, there's a radical change; the dream is over. Dylan shifts from the procession to the mundane: "Yes, I received your letter yesterday/About the time the door knob broke/When you asked me how I was doing/Or was that some kind of joke?" He seems to be describing a note from a family member, perhaps his mother—mundane, chatty. He concludes:
All these people that you mention
Yes, I know them, they're quite lame
I had to rearrange their faces
And give them all another name
Right now I can't read too good
Don't send me no more letters no
Not unless you mail them
From Desolation Row.
Let's compare these lines with a poem by Richard Wilbur, who did not
win the Nobel but really should have done. Wilbur's grace of language is
one point; his maturity of comprehension and engagement with life
another.
Sometimes, on waking, she would close her eyes
For a last look at that white house she knew
In sleep alone, and held no title to,
And had not entered yet, for all her sighs.
What did she tell me of that house of hers?
White gatepost; terrace; fanlight of the door;
A widow's walk above the bouldered shore;
Salt winds that ruffle the surrounding firs.
Is she now there, wherever there may be?
Only a foolish man would hope to find
That haven fashioned by her dreaming mind.
Night after night, my love, I put to sea.
The interesting question is who genuinely deserved the prize. Kundera, Pynchon, Roth, Louis Cha, and Richard Wilbur are the obvious snubs. Geoffrey Hill, recently deceased, would have been a worthy recipient. James Salter, recently deceased, likewise. Updike, less recently deceased, got rooked for twenty years and had no choice but to take matters into his own hands and bestow the prize on his literary alter-ego Henry Bech.
It's notable that no science-fictionist or fantasist—neither Wells, nor Orwell, nor Tolkien, nor Huxley, nor J.G. Ballard—all with strong claims—has won the prize. And poor Ursula Le Guin, fantasist of whole universes plausible and poetic for whom Earth itself was too small and American vernacular too shabby—where's her Nobel? She would have been a brilliant choice, meeting all the Nobel criteria: sustained excellence, mastery of language, reinvention of her genre, mythic scope. The New Yorker happened to run a fine piece on her during Nobel week. It's regrettable that it did not wind up being an inadvertent Nobel toast.
http://www.newyorker.com/magazine/2016/10/17/the-fantastic-ursula-k-le-guin