Trumpet
Art as a part of daily life
Supporting our community of artists and writers builds a better world.
War occurs when artists are silenced
Make a one-time donation - Your support keeps the artistic voice alive:
When weak leaders create war and suffering, strong people create joy and peace.
When I started playing guitar at age six, I never dreamed music would take me around the world ten times over!   I had amazing experiences touring USA, Europe, South America,  and living a decade in Asia.  I met wonderful people, and experienced many joys and sorrows.
Alas, I retired from guitar while living in China in 2012, and I did not return to music for ten years.  When the Ukraine / Russia war started in spring of 2022, I felt a calling to return to music.
Since I left all my guitars in a music studio in China, I decided to search for a new sound.  A close friend in Shenzhen had gifted me a trumpet, so I decided to pull it out of the closet, and start from scratch!
With my new instrument and sound, my goal is to bring classical and golden era music into the daily life, where I feel it is needed most.  Your support allows me to bring music onto the streets, and along with the music, maybe also a little peace ~ 谢谢 (thanks), Chris
Instrumental Trumpet Music
Recent Solo Performance:

UNC Chi Psi Fraternity Cocktail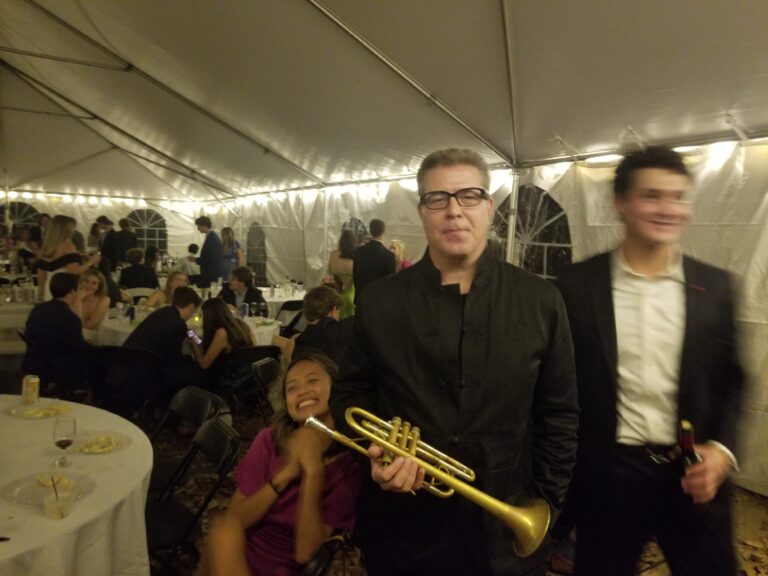 I have performed in the UNC and East Coast USA area for years including for the Kenan Family, the Dean Smith Family, Eric Montross (Boston Celtics), and the Bassett Furniture Family on the exclusive Jupiter Island, Florida. Also at the Carolina Club, Biltmore House, Grove Park Inn, Charleston Yacht Club, and Walnut Creek Amphitheater. I have also recorded and performed with members of the hit retro band "Squirrel Nut Zippers".In addition, I have toured the world with music many times over. I performed for private high society functions in Beijing and held a three-year house gig at a Six Star resort above Dameisha Beach Park overlooking the Hong Kong Bay. Also performed for Tencent Corporation, who created the Chinese WeChat app, and became one of the highest grossing multimedia companies in the world. For years, I also managed the foreign music for an upscale jazz bar "UKlub" located in the bustling, high tech city of Shenzhen, China.Currently I manage an internet music startup with Dr. Akiko Yamazaki, an amazing performer and educator, who holds a doctorate in classical piano pedagogy. Together, with an amazing and talented team, we are launching a new internet music education project –
www.YamazakiPiano.club
ChinaBlues - A decade of music in mainland China
Chris has shared music around the world...